Good Husbandry: Growing Food, Love, and Family on Essex Farm (Large Print / Library Binding)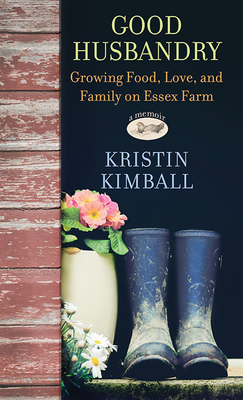 $45.54
Email or call for price.
Staff Reviews
---
I knew I liked this book by page 2, when one of my favorite words appears: "Etiolate," to describe what a sprouted seed might do if not given enough light at just the right time after germination. I don't farm and I rarely garden, but there is so much to learn and enjoy about this book. I especially like the passages about birthing, motherhood, and family, and the shifting of balances between family dynamics and the farm's own insistent work. Kimball is honest and straightforward, and her words draw a picture of life-work-balance, hope, and grace.
— Sam
In the fall Kristin Kimball arrived at Bear Pond with several crates of beautiful squash and pumpkins to gift to people who attended her reading. She read from her memoir, Good Husbandry - an in depth story of choosing life as a farmer when she met Mark, the man who would become her husband. Her life path took a sharp turn from world traveler, New York City dweller to family farm in upstate rural New York. Together with other dedicated helpers her family lovingly produces food for a whole-diet year-round CSA. Summer is a great time to read and especially to follow the daily struggles and joys of those who choose this path of growing food to feed us.  
— Patty