Death Prefers Blondes (Hardcover)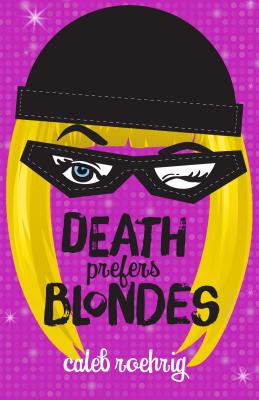 $17.99
Email or call for price.
Description
---
Teenage socialite Margo Manning leads a dangerous double life. By day, she dodges the paparazzi while soaking up California sunshine. By night, however, she dodges security cameras and armed guards, pulling off high-stakes cat burglaries with a team of flamboyant young men. In and out of disguise, she's in all the headlines.

But then Margo's personal life takes a sudden, dark turn, and a job to end all jobs lands her crew in deadly peril. Overnight, everything she's ever counted on is put at risk. Backs against the wall, the resourceful thieves must draw on their special skills to survive. But can one rebel heiress and four kickboxing drag queens withstand the slings and arrows of truly outrageous fortune? Or will a mounting sea of troubles end them—for good?
About the Author
---
Caleb Roehrig's debut YA thriller, Last Seen Leaving, was called one of the Best YA Novels of 2016 by Buzzfeed.com. Caleb lives with his husband in Los Angeles.
Praise For…
---
Seventeen Magazine's Best YA Books of 2019 So Far
Cosmopolitan Magazine's YA Novels You'll Be Obsessed with in 2019
Buzzfeed YA Novels That You Need To Read During Pride Month
A Popsugar.com Best YA Novel of 2019
Paste Magazine Best Young Adult Novel of 2019

"Death Prefers Blondes delivers on its promise of a glitzy teen thriller, and I was feeling the fantasy."--NPR.org

"Roehrig has given us not just one queer James Bond, but five, each with a unique relationship and pride in their own queerness. And that's not to mention the heists, fights, flirting, drag queens and death defying leaps. Both an outrageous page turned and a treatise on the joy of the queer family."--LC Rosen, author of Jack of Hearts (And Other Parts)

"Roehrig creates a vibrant Los Angeles setting, where Manning and her friends are able to flawlessly (for the most part) pull off clever heists, go to fabulous drag shows, and explore their sexualities fully and without much worry or judgment. He's a great, fun writer who delivers with excellent pop culture references, a biting sense of humor, and a feel for emotional resonance."--Entertainment Weekly

"Margo Manning is a cute blonde heiress who spends her days doing... heiress-y things in California. At night, she's a burglar with four drag queens. NEED I SAY ANYTHING MORE?"--Cosmo

"Balancing Oceans 11–level heists, corporate espionage, and gender and sexual identity politics isn't easy, but Roehrig manages it with aplomb, skillfully threading in Hamlet references to boot. Clever, thrilling, and a wildly good time.--Booklist Magazine, starred review